Englewood Paper Shredding
The mission of Englewood Paper Shredding is to provide secure and cost-effective shredding service options to businesses and homes in Denver and across the front range. We understand the security requirements needed to guard your sensitive information. Businesses also need to comply with Colorado and national privacy regulations.
About Englewood Paper Shredding
Englewood Paper Shredding provides several shredding services developed to meet your requirements for information at your office and home. We will match you with the best service for your volume and budget.
We will exceed your document destruction needs at any level. Many offices begin as annual purges at the tax time and grow into monthly shredding clients. We strive to get you the most competitive pricing available.

For more details on Englewood Paper Shredding just call us at (303) 500-3413, or request a FREE quote today!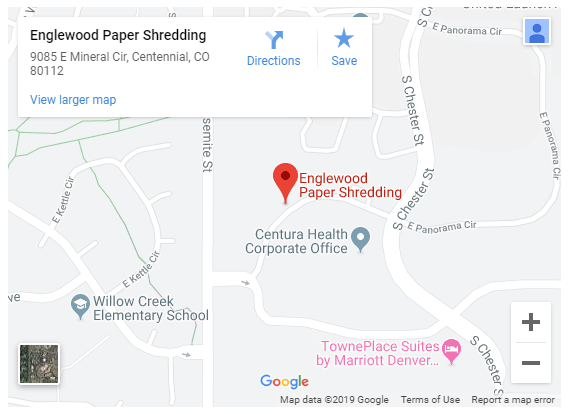 Get Free Quotes on Shredding in Englewood
Shredding Services in Englewood
Service Options Available in Englewood CO
Ongoing Service – Daily, weekly, and monthly scheduled shredding service. Secure, locked shred bins are placed around your office free.
Purge Service – For companies that need annual, one-time, or occasional shredding. Costs are based on volume to shred.